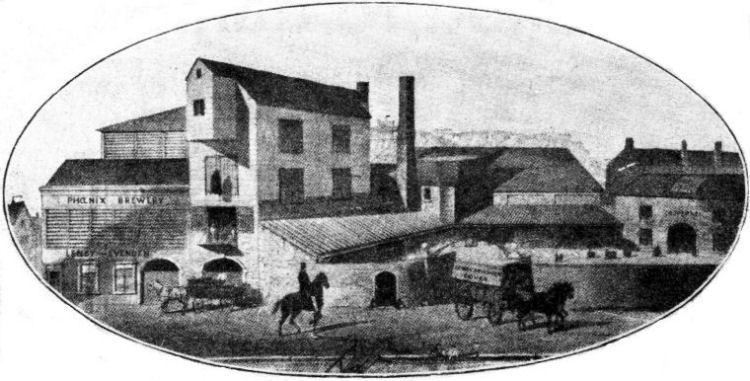 Brewing in Dover
With its very pure water, the Dour is an ideal place to start a brewery! There is no doubt that brewing will have taken place in Dover from the earleist times, with Monastery estates producing beer for their monks and the ordinary man drinking small beer - very low alcohol beer as a safe alternative to river water, which could become very polluted in developing towns. We know that the Maison Dieu was used as a victuallers for the Navy in 1590 and the malt mill constructed to supply it shows that brewing would have taken place to supply the King's men. In 1740 the Phoenix Brewery was founded near Dolphin Passage, and in 1829 Favius Kingsford founded a brewery that was to become known as the Windmill Brewery. The site is now occupied by the Kingsford Court flats at the junction of Coombe Valley Road, then Union Road, and London Road.
Other Breweries recorded include Cliffe's Brewery at Bulwark Hill (1870), Elvey's, who later manufactured soft drinks, at Snargate Street, and Satchells in Limekiln Street, demolished in 1900. Grant's Distillery in Limekiln Street produced gin, cherry brandy and Standfast whiskey.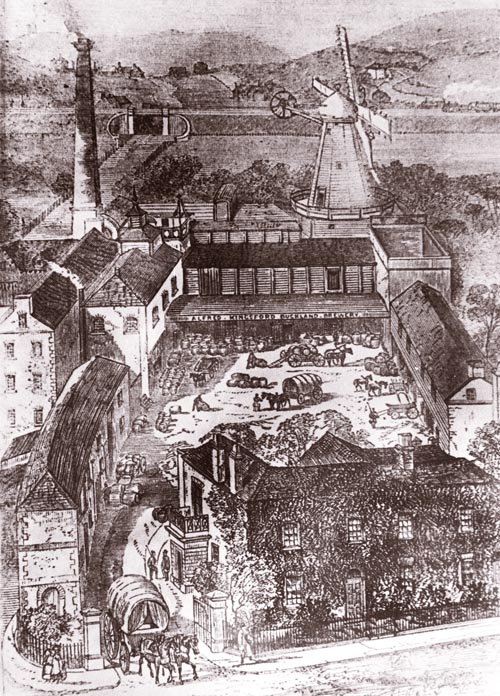 The Windmill Brewery
Although he owned the site from 1829, the Windmill that made Kingsford's brewery such a landmark was not built until 1798. Favius Kingsford was an experienced miller and used windpower to draw water for brewing up from wells within his premises. His son Alfred took over the business and is recorded in 1862 to have imported 2,302,169 quarters of foreign barley, and 8,442 tons of hops through the port of Dover to supply his brewery. Given the quantities of raw materials, the mill was likely to have been used to winch stores up to the top of the building. The business must have been very profitable as Kingsford built "Woodside" a fine mansion at the bottom of Whitfield Hill, later owned by Dover Mayor William Crundall, and made generous contributions to the cost of erecting the old Salem Baptist Church, which stood where Boots the Chemists is now located.