Papermaking in Dover
Of over a dozen mills on the Dour, five were paper mills. The clean spring waters of the river offered both a power source for breaking up the paper pulp and a ready supply of suitable water for the wet phases of manufacture.
Bushy Ruff Paper Mill
Bushy Ruff Paper Mill was built in 1794 to manufacture brown paper. Its owner William Knocker built a fine house, Bushy Ruff House, which stands above and West of Russell Gardens. The house was caught fire in recent years and is now derelict. A white paper mill was added in 1794 with a new mill pond, still enjoyed by the public as part of Bushy Ruff park. The new mill had a more efficient overshot waterwheel. The mill must have gone into decline, for an insurance assessor in 1815 described it a a miserable place. In 1823 it was leased out to Cooper, Packham and Company, and again in 1826 to George Dickinson who was made bankrupt, so little profit was made from the enterprise. William Knocker died in 1847 and the mill very soon closed, being demolished in 1870. The Stables and drying room still stand today and are now a house.
River Paper Mill
Originally built as a corn mill, River Mill was sold to John Smith in 1689 as a "recently converted mill". The mill had many owners who had mixed fortunes - in 1756 it was sold to Thomas Radford. His journeyman (trainee), Willaim Phipps married Radford's daughter and bought the mill in 1780. By 1792 he was bankrupt, but recovered to build Crabble Paper Mill and re-lease River Mill. He bought the mill again in 1800. When William died in 1820. River Paper Mill paseed to his son, Christopher, who installed new papermaking machinery - the work would have previously been done by hand. The mill passed to Christopher's nephew Filmer, when Christopher died in 1867 and he was also made bankrupt, but was able to lease the mill back from the bank. It was sold in 1908 and finally closed in 1918. Its chimney remained standing until 1928, but now all that is left are ruins - strong brick structures through and over which the waters of the Dour make waterfalls at the far extent of Kearney Abbey park.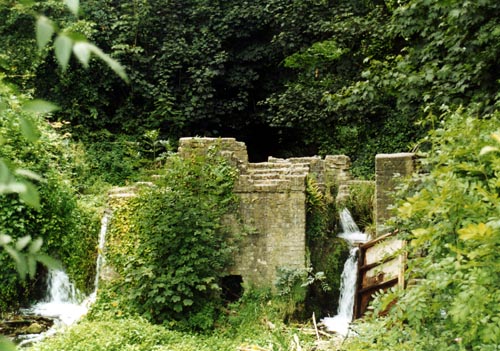 Crabble Paper Mill
In contrast to River Mill, Crabble Paper Mill was purpose-built by William Phipps. The mill's foundation stone gives a date of 1788 but it was described as "lately errected" in 1792, so there may have been a phased construction. In 1802 the second paper making machine in Britain was installed at the mill, and John and Christoper Phipps patented a Dandy Roll for making watermarks. The mill closed in 1894 and was sold to Wiggins Teape who used it as a rag room and for rag boiling. The mill burnt down in 1906 but was rebuilt for rag sorting and storage. After being shelled in 1944, it was rebuilt as a store only. The building was closed in 1989 and, in 2002, was converted into apartments.