The Victorian period saw huge changes in Dover as industry provded more jobs and the town prospered from trade with the continent and the British Empire. With lots of industry along the river including paper mills, corn mills and an oil mill, busy Dover Harbour and many soldiers garrisoned in Dover, the town grew very quickly. Between 1801 and 1901 the population increased by 600 percent. Near Charlton, Barton Farm was sold and the land developed for housing from 1895 as part of the Barton Estate built by Sir William Crundall, (one of Dover's most famous mayors).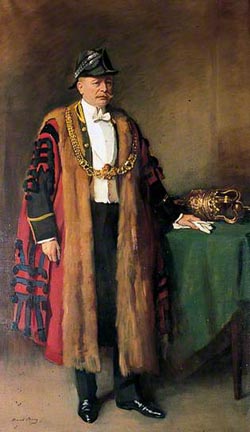 Sir William Crundall, ©Dover Collection courtesy of Dover Museum
Arguably the most infuential personality in Dover's Victorian expansion was William Crundall. His company Messrs. William Crundall and Co. had riverside premises on Wood Street, but had national and international interests. Crundall was a record twelve times mayor of Dover and was responsible for the modernisation of the harbour and the introduction of trams to the town. Historian Bavington Jones states that "In Dover, the laying out of the Clarendon Estate, now one of the most populous parts of the town, was commenced by this firm about thirty years ago. A few years later they laid out the Dover Castle Estate, and later they undertook the Barton Estate. In the earlier days of these undertakings Sir William Crundall, the present head of the firm, took active part with his father, and in later years he has been in sole control."
Open channels which diverted extra water downstream from full millponds were put into a tunnels (culverted) as the town grew, and in places the river itself was covered. Roads and buildings were built over the top. Elsewhere the riverbank became part of gardens and was often formalised with hard edges such as the area between Dover Police station and the bowling club.
Great fortunes were made and lost during this period of expansion. Civil engineer William Moxon moved to Dover, intending to make his fortune as a contractor for Dover's drainage system (only recently needing replacement in some places) and fortifications on the Western Heights. He built Brook House (now demolished) in 1860, alongside the river.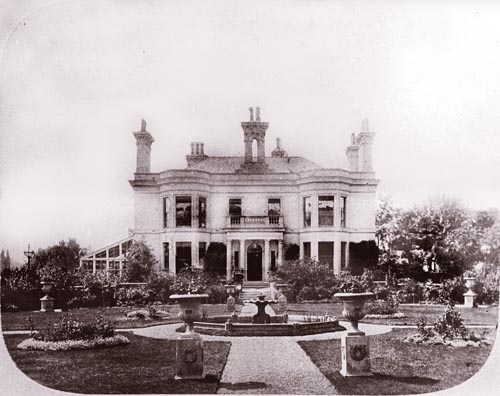 He was involved in schemes to widen Charlton Back – now Maison Dieu Road, and to build a new road bridge across the Dour – now Pencester Road. Moxton ran into financial difficulties before Pencester Road was completed and had to sell his fine mansion, but the grounds of his house helped to prevent development along a considerable length of riverbank. The survival of the riverbank as a public space in Pencester Gardens was more a matter of good fortune, as plans to build roads, a new railway station and a new town hall all fell through with the area becoming a timber yard for some time. Dover Corporation's purchase of the land in 1922 secured its future as a public park.